Friends of St Margaret's
Overview
In 2006 we set up the Friends of St. Margaret's, a registered charity, to raise money for the restoration of the tower and windows of our local church, St. Margaret's in the village of Crick in the county of Northamptonshire. At the start we had raised around £58,000, and the church had contributed a further £80,000, towards a total estimated cost which will be in excess of £500,000.
We applied for a grant of £144,000 (plus project management costs) with English Heritage which was successful. Other charities have also contributed in the meantime towards the restoration. To date we have secured funds to cover the restoration of the tower and four of the windows in most need of repair. Additional funds will be necessary to meet contingencies and work towards the restoration of the 5th window.
Friends of St Margaret's will be helping set up fund raising events and apply for grants towards the restoration work. Meanwhile, a very varied programme of events is being drawn up with the idea of having fun whilst making a start on our mammoth fund raising effort. Any donations or offers of help will be warmly welcomed.
Friends of St Margaret's is run by a committee which meets up on a regular basis, usually every two months.
St. Margaret's Church
St.Margaret of Antioch, Crick's ancient church is open every day, a fact which is welcomed and commented on by visitors. It provides a quiet place for reflection by all but is also Crick's largest venue for concerts and community events.
Unfortunately this historic building is in desperate need of major restoration. The tower is faced with soft Hartshill stone, which is crumbling badly, and several windows are in a very poor state of repair. Our bells have had to be silenced for fear of masonry being damaged by vibration.
About the church
There has been a place of worship on the site for 1,300 years, the first, Saxon, church having been a wooden structure. By 1077, a Norman church with a nave and chancel was built of stone and additions and alterations have been made ever since. It is said that the fabric suffered at the hands of Parliamentary troops on their way to the Battle of Naseby; but this has not been confirmed. What is known however, is that stained glass windows, colourful frescoes and altars with rich hangings and lights were all destroyed around that time.
Two of St. Margaret's rectors have been notable for different reasons: one was Archbishop William Laud, who was martyred in 1645 and the second was Stephen Fowler, who was ejected from office in 1662 for failing to conduct services as prescribed in that year's Act of Uniformity!
The centuries-old tradition of worship continues to this day, with residents marking events in their lives - baptisms, weddings and funerals - as well as gathering for worship on Sundays and during the week. Special services are held at times such as Easter, Christmas and Remembrance Day.
Varioues concerts take place, some making use of the nationally important organ, and there is a monthly village market.
You are most welcome to attend any of our services or simple to drop into the church at other times.
The cost of the work
The total cost of all the work necessary to preserve St.Margaret's will be in excess of £500,000. In 2006 we set up the Friends of St. Margaret's, a registered charity, to raise money for the restoration. Just two years ago with around £58,000 we applied for a grant with English Heritage which turned out to be successful. The award was for £144,000 plus an additional £20,000 towards project costs (Stage 1). Other charities have since contributed towards the restoration, including Winifred Hall Trust and the Crick Parish Council, which the result that to date we have secured funds to cover the restoration of the tower and four of the windows in most need of repair. What remains to be done is to build up some funds to meet contingencies that could arise from Stage 2, and also work towards the restoration of the 5th window.
We believe that St. Margaret's is so much a part of our local and national heritage that it deserves support from a wider community, and we hope that you will feel able to help the project in any way you can, just to get us over the final hurdles.
Restoration work started in June 2011 (completion December 2012)
The involvement of the Astley family during the 13th and 14th centuries explains why the stone used for the tower came from Hartshill, near Nuneaton. Astley Castle, from that area, was built using the same, slightly pink, stone. Unfortunately, this stone is rather soft in nature. This, coupled with the use of Portland cement rather than lime mortar during restoration work about 100 years ago, resulted in major problems with delamination of the stone, and in 2004, the area around the base of the tower was fenced off because of the possibility of falling masonry.
As with many country parishes, the church suffered from an aging population and a small congregation and the PCC was struggling to keep going with major restoration projects. Recognising this problem and to attract a wider audience to the building, some of the villagers set up The Friends of St. Margaret's, Crick (FOSM) in May 2006 to kick start the restoration effort. FOSM is registered as a charity (no 1117468) and is recognised for Gift Aid by HM Revenue and Customs. They were faced with a daunting task:
In summary, the tower needed completely repointing, in addition to replacement of some of the more eroded stone. The condition of five of the remaining unrestored windows also gave cause for concern, and two of these had to be boarded up for safety. Other work was not quite so urgent but needed to be done to eliminate greater expense in the future. A ballpark figure for the cost of work to be done was £500,000. Since its inauguration, FOSM has raised funds tirelessly, both through organising many varied events and through obtaining grants and donations.
Thanks to a large grant from English Heritage, work was able to begin on the tower and four windows in May 2011 and should have been completed in November of that year. Unfortunately, the original builders went into administration, resulting in delay and added expense as a new contract had to be drawn up and another firm employed.
Although this was a blow, FOSM continue with their efforts, not only because they wish to preserve an important piece of our heritage for worship, but also because they have always tried to reach out to the village as a whole and use the building as a focus of community life.
Select here to see latest progress report
How you can support the appeal
Donations are welcome at any time and can be sent to the Treasurer at the address below.
Cheques should be made payable to 'The Friends of St.Margaret's, Crick'.
If you prefer, you can pay by Credit or Debit card online by selecting Donate by card.
We encourage donors to Gift Aid their donation if possible.
A copy of our brochure can be downloaded by selecting the following links:-
Please fill up the Donation/Gift Aid section on the back and return it to the Treasurer whose details are listed below.

For £5 a year, or £8 per couple, you can become a Friend of St.Margaret, or you can participate in our Hundred Club, which pays out two prizes a month (contact the Treasurer for details).
Dave Milne, Treasurer & Membership Secretary,
Greenlands, Crick Marina,West Haddon Road, Crick, Northants, NN6 7SQ
Phone 01788 824670, Mobile 07702 229323, Email: daveandsuemilne@btinternet.com
SPECIAL EVENTS
The Friends of St.Margaret's hold many and varied fund-raising events, which are publicised on the notice board inside the porch (to the right of the main door), in the monthly 'Three Churches News' and around the village, and of course on this website. Volunteers to attend events, help with them or even join the fund-raising committee are most welcome.
Fiori Musicali Concerts in 2011 and 2012
To celebrate the second anniversary of the completion of the restoration, Fiori Musicali Choir performed a special concert on Saturday 15th October 2011 at 7.30pm in St. Margaret's Church, Crick, Northamptonshire. Andrew Reid, organist from Peterborough Cathedral, accompanied the choir and play one of Mendelssohn's Organ Sonatas and Bach's famous Toccata and Fugue in D minor. The proceeds went towards the Organ and Church Restoration funds.
To celebrate the third anniversary of the completion of the restoration, Fiori Musicali Choir performed another special concert on Saturday 20th October 2012 at 7.30pm in St. Margaret's Church, Crick, Northamptonshire. James Parsons, past organist from Oundle School, accompanied the choir and play Faure's Requiem and other music pieces from the time. The proceeds went toward the Church Restoration funds.
Select Programme to see the concert programme.
Select Leaflet to read the leaflet about the concert.
Hollowell Steam Rally over the weekends of 6th/7th July
Please join us on this occasion and join in the fun at Hollowell Steam Rally weekend.
Crick Scarecrow weekend on the weekends of 13th/14th July
Please join us on this occasion as well and see if you can discover the whereabouts of all the scarecrows in the village. There will be an all day barbeque in the church grounds from 11am to 4pm on each day.
Sponsored Ride and Stride on Saturday 12th September
Please come and cycle or walk to one or more churches in nearby villages to raise funds for the Northamptonshire Historic Churches Trust and our own church's restoration.
Select Leaflet to see more details.
Managing Committee
A few years ago, Friends of St. Margaret's (FOSM) was set up as a charity to look into all possible ways of undertaking a full restoration and/or repair of the church tower and five of the windows in most urgent need of repair. Over the period since FOSM was set up the committee has met on a number of occasions and the constitution and minutes of those meetings are listed as follows:
The committee consists of Dave Milne (Chairman), Ann Ward (Treasurer), Sue Milne (Secretary), Karen and Andy Hopkins, Loraine Winn, Irene Hopper, Vicky Mynott as ordinary committee members.
Select The Constitution to read the Friends of St.Margaret's Constitution.
Select More detail to read further news about The Friends of St.Margaret's Church.
Crick Village History
Explore in more detail the history of Crick and surrounding local villages Click here
Photo Gallery
Friends of St Margaret's have assembled together a number of photos about the church and these are being displayed here.

Inside of the church facing the organ in the west gallery. - - - - - - - - - - - Tilting gravestones on north side.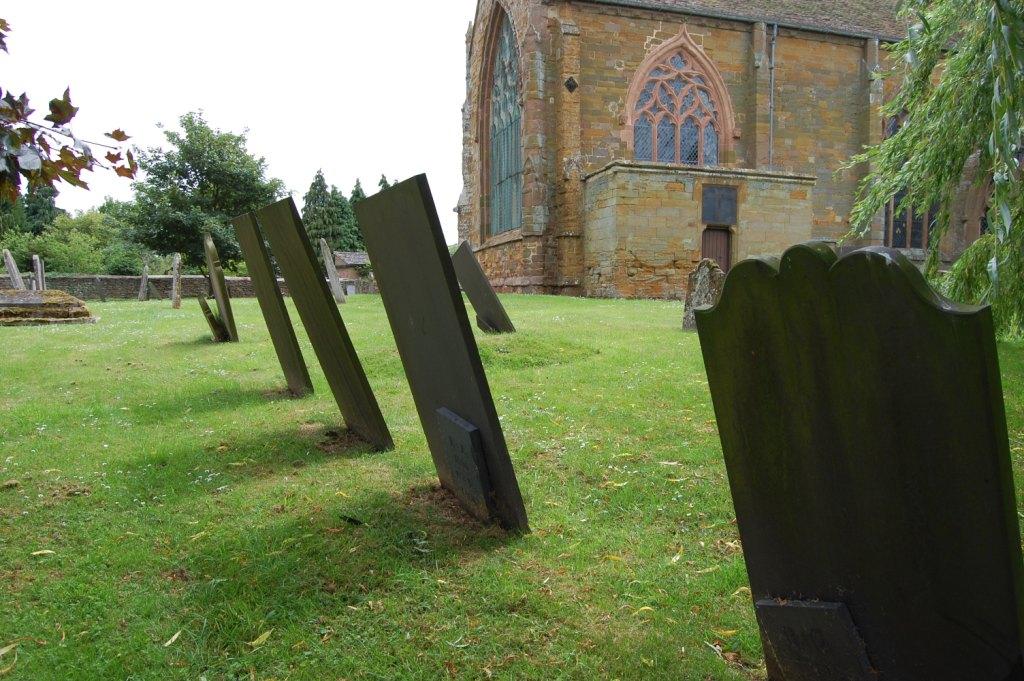 Gargoyle's head in motion from left to right!
A few restoration photos!